| | | |
| --- | --- | --- |
|   | |   |
KUV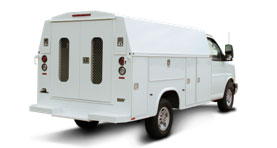 Say goodbye to crawling around in the back of your cargo van searching for tools and inventory. The KUV has all the compartments necessary to help anyone keep organized on and off the jobsite. The KUV has secure external equipment storage that is easy to organize and internal storage space that includes two conduit chutes and a large cargo area for oversized items. With a cab access door, the technician can leave the driver seat and enter the internal cargo area to obtain the needed inventory for the job site. The KUV is rugged with a solid steel galvanneal steel construction built to last.
Knapheide is the leading manufacturer of standard service bodies. We've put forty years of ideas and innovation into our service bodies so you can have the best in the industry. The external compartments offer protection from the outside elements and allow the technician to access their equipment without having to climb into the truck bed.
STANDARD SERVICE BODY
MECHANIC TRUCK
Knapheide's KMT2 Mechanic Truck comes equipped with a variety of compartments to store your equipment and help you stay organized on the jobsite. The Master Locking System keeps your tools and equipment safe and secure and gives you peace of mind. The KMT2 employs a 10,000 lbs. maximum capacity crane to take care of all the heavy lifting. Knapheide's KMT2 is available in 11 1/2, 13 1/2, or 14 1/2 body lengths and many different compartment configurations.
Knapheide's KFLT1 features a modular design in order to offer flexibility to fit specific needs of a wide array of applications. With a 1,000 diesel fuel tank and numerous product tanks, the KFLT1 has ample storage for your fuel and lube needs. The KFLT1 utilizes Knapheide's tank isolator system which greatly reduces flexing, twisting, and vibration on the chassis frame.
FUEL LUBE TRUCKS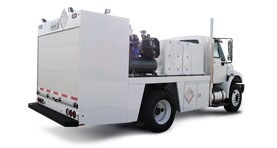 FLAT BED OPTIONS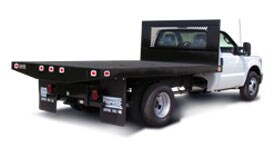 Knapheide's Value-Master X is the value priced heavy duty platform. The Value-Master X is available in a wide variety of lengths, ranging from 7 1/2 all the way up to 26 1/2 and can be upfit to a wide range of chassis applications as well. The PVMX is Knapheide's most popular platform. From hay bales to bricks, the Value-Master X has hauled it all. With durable floor choices ranging from wood to apitong to smooth steel to treadplate overlay, this platform comes with enough different options to make it suitable for your application.
CONTACT Eric Eby FOR PRICING AND AVAILABILITY

Office: (574) 534-3673 eeby@ebyford.com