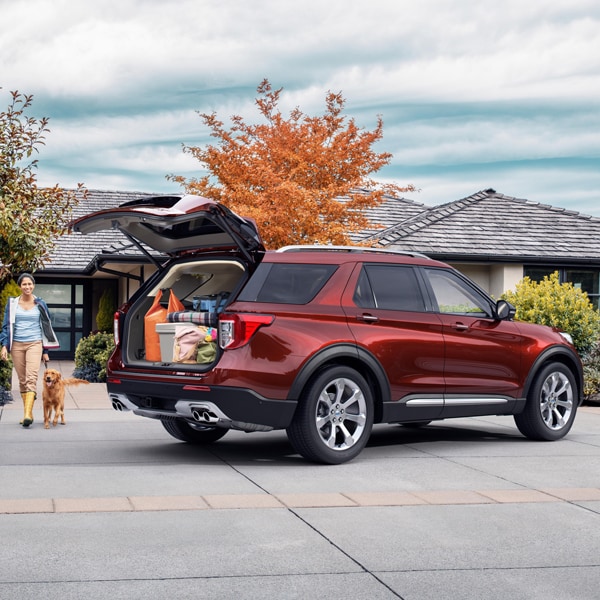 Ford Dealership Near You
Have you been wondering where you can buy a Ford car? It might be in your best interest to find a Ford dealership near you. People looking for an Elkhart car dealership they can trust can visit Eby Ford. Eby Ford is an Indiana affiliate of the Ford Motor Company. We give locals access to Ford cars and Ford resources that could make your mission easy. The convenience prioritized at our car dealer makes a favorite among local drivers. The reputation of Eby Ford can even be found online. If you are investigating the options at our Ford dealership near you, the reviews of previous customers can be helpful. With a closer look at our process, clients often feel comfortable proceeding. As a Ford dealership near Elkhart, we strive to support community members. Buying a car can be a difficult process for many people. At Eby Ford, our team will help you overcome the obstacles in place. We have an extensive collection of Ford cars for sale, coupled with financial and mechanical resources. These cars can be found in new, used, and preowned conditions. Each condition offers drivers a unique set of bonuses. Whether you are in the market for something affordable, something fresh, or something in between, Eby Ford can get you back on the road. Indiana customers will also be backed by the Ford Motor Company. The Ford Motor Company has been incorporated since 1903, and they continue to distribute quality automobiles. These vehicles have stood the test of time, giving rise to the slogan 'Built Ford Tough'. The durability of these models makes them an excellent choice, new or used. The expertise of Eby Ford, combined with the resources of the Ford Motor Company, makes finding what you are looking for possible. If clients feel prepared, they can evaluate their ability to make a purchase in person or online.
Eby Ford encourages clients to begin with our website. Remote access to our dealership can save you time and money. The convenience of our virtual system is a necessary resource for people across Indiana. Clients often have difficult schedules to manage or limited means of transportation. With Eby Ford, Indiana drivers can overcome these roadblocks. Our virtual showroom kicks things off by introducing people to our selection. Clients can easily browse models according to their preferences. We ask that you select the filters necessary for your purchase, so the showroom can be organized. Now that you have narrowed down the inventory, you can begin comparing cars for sale. As you explore these models, you can get a closer look at each car on a model-specific page. Eby Ford's staff has detailed the specifications and features of the vehicle for your convenience. We have even uploaded photos so our customers can judge the condition of the model. If you are ready to purchase a car from our Elkhart car dealership, there are other tools to take advantage of. The auto loan calculator, in particular, can help prospective clients. This tool will help you project the finances of your purchase. Customers who use this calculator might determine that they need financing. People who visit our online financing section can educate themselves on possibilities. Eby Ford's Ford special offers and Ford incentives can give drivers the boost they need. It isn't much, but a small bonus could be all you were looking for. However, there are clients who require more serious support. The credit line offered by Ford is known as Ford Motor Credit. Ford Motor Credit is a useful tool that Americans can take advantage of across the country. With the credit you need, you might feel comfortable expediting a purchase online. The preapproval page at Eby Ford can give you the information you need. After uploading the requisites to our staff, they can determine your eligibility. If Eby Ford has preapproved your purchase, they will invite you to the Ford dealership near you.
Elkhart Car Dealership
People visiting our Elkhart car dealership in person can discuss options with our staff. Ford cars for sale near you can be explored extensively when you visit our sales department. One of our team members can give you a guided tour of the dealership where you can learn about Ford cars. Before the tour, we can offer a consultation. This discussion can make finding the right car easier. Our team can narrow down the search based on these parameters. Uncertain clients in Indiana can learn more about options on the guided tour. We often begin the tour with our sedans for sale. The Ford Motor Company has manufactured some of the most impressive vehicles on the market, and this is still true for their sedans. Vehicles, like the Ford Focus, have achieved critically acclaimed success for their practical approach to the road. The excellent fuel efficiency of these vehicles allows owners to save time and money on the road. Not only are they able to protect your wallet, but they also work to protect the Earther with reduced emissions. Commuters across the nation value these vehicles for their pragmatic performance. 
While a sedan is an effective choice for many drivers, some people prefer a more versatile vehicle. The Ford Motor Company has created popular SUVs for people to enjoy. Models like the Ford Escape, Ford Explorer, and Ford Expedition offer Americans the adaptability that they need. The Ford Escape is a compact SUV with good fuel economy and a sleek design. People who prefer a smaller, more maneuverable SUV can consider this compact option. However, clients in the market for a balanced SUV can inspect the best-selling SUV model of all time. The Ford Explorer has achieved recognition as the best-selling SUV of all time. It is a midsize option that can accommodate various scenarios. With an interior cargo capacity between the Expedition and the Escape, the Ford Explorer has what many people have been searching for. Whatever SUV is right for you, there are multiple customizations to consider with our representative. We can attune the vehicle to your lifestyle, taking into account your needs.
 Ford SUVs are a great choice for many families and outdoor recreationists,  but a Ford pickup truck might be the preferred option for other drivers. Ford pickup trucks come in various forms, including a popular full-size line known as the Ford F-series. If you are in the market for a truck for sale near you, it would be a disservice not to inspect the Ford F-150. The Ford F-150 is the best-selling car in America over the previous 30 years. Not only is it the best selling car, but it has been the best selling truck for over 40 years. This impressive history has made the Ford F-150 one of America's favorite cars.  It is usually equipped with a gasoline-powered engine that allows it to function as a commuting option. For the people who prioritize power, the Ford F-series also has the Ford F-250 and Ford F-350.  These larger pickup truck variants are usually equipped with a diesel-powered engine, as they are heavy-duty trucks. Diesel increase is the torque output provided to the truck, giving it a higher maximum payload capacity. These specifications make it the ideal choice for commercial purposes. Whatever Ford car for sale is right for you, Eby Ford is here to help.
Hours
Monday

8:00am - 8:00pm

Tuesday

8:00am - 8:00pm

Wednesday

8:30am - 6:00pm

Thursday

8:00am - 8:00pm

Friday

8:30am - 6:00pm

Saturday

8:30am - 4:00pm

Sunday

Closed