Ford Police Interceptor at Eby Ford
POLICE TESTED. STREET PROVEN.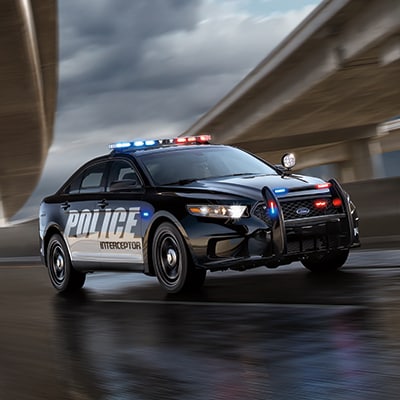 Dependable and Safe
When you get a Ford Police Interceptor you are getting a vehicle that provides maximum safety on and off the road. Passing a 75-mph rear-crash test is among the many strengths that have defined the Ford Police Interceptor. The Ford Police Interceptor continues this tradition of extreme officer protection. With Ballistic door panels that are tested to meet the requirements of NIJ standards, you are protected when you are in a firefight. If a crash does happen, our advanced safety technology helps adsorb energy from the collision and protect its occupants. With our standard Personal Safety System, your vehicle processed millions of measurements per second in order to keep you safe. It is also able to tell the difference between a crash and rounds being fired from a gun. Like all Ford vehicles, the Police Interceptor are built to last as a durable and dependable vehicle for years to come.
Versatile and Innovative
The Ford Police Interceptor has a variety of engine choices that all deliver more power and more efficiency than the previous versions. These dramatic improvements in performance deliver remarkable benefits. At the request of small and local agencies, Ford is launching a "non-pursuit" rated Special Service Police Sedan that uses the 2.0-liter I-4 EcoBoost® engine rated at 240 horsepower and 270 lb.-ft. of torque. While concentrating on delivering improved efficiency over the 3.5-liter V6 engine with FWD, 3.7-liter V6 engine with AWD and 3.5-liter EcoBoost V6 engine with AWD, the new Special Service Police Sedan retains all the ­­essential police DNA that goes into pursuit-rated versions - safety, durability and upfit.
Ford has also provided many new safety features, like the police-calibrated AdvanceTrac with RSC (Roll Stability Control™) system that was tuned with the guidance of EVOC instructors to enhance pursuit-driving maneuvers. The engine and transmission tuning parameters have been programmed specifically for pursuit driving. The transmission gearing will track with the driver's maneuvers to optimize response and performance.
Ford Telematics™ Powered by Telogis® is a powerful telematics solution expressly designed to meet the special demands of law enforcement agencies. The system tracks vehicle status across an entire fleet, offering real-time insights on current location, maintenance requirements, speeding, hard braking, fast starts, safety belt status and other key stats.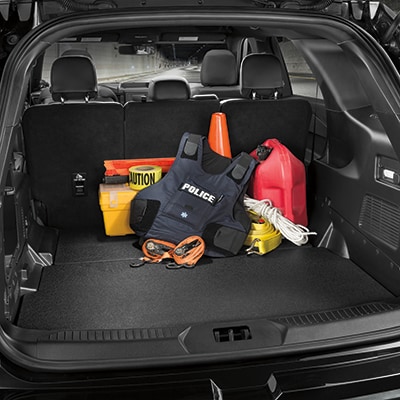 Spacious Interior
The interior of this vehicle is specifically built to protect you and help you do your job wtih ease. The foam in both front seats is specially sculpted to accommodate your gear belt, making it easier to buckle the safety belt. A column shifter allows an open center console space to accommodate police equipment. That open space is the same width as that of the Crown Victoria Police Interceptor, so you can install center consoles from your older vehicles right into the Police Interceptor.
A dual-purpose dome light illuminates in white or red. Red light enables officers to see what they're doing inside the cabin, without being clearly seen from outside the vehicle. Access to the second-row passenger area is eased by wide-opening rear doors on the sedan. The simplified door panels have no mapholders or cupholders. Unique hidden door lock plungers, accessible from the front-row door panel door jambs, are manually activated to enhance occupant containment in the second row. The rear bench seat features a space-maximizing design. Both the rear seat and the floor are covered in heavy-duty vinyl to ease cleaning.
Driver-distraction solutions begin with innovative remappable switches engineered into the steering wheel. When connected to operate equipment such as lights, siren, speaker, canine door release, etc., the switches can help keep your hands on the wheel and your eyes on the road. With voice-activated Ford SYNC,® just press a button on the steering wheel and speak commands. Once paired to a cell phone or mobile device, SYNC automatically supports hands-free voice calling. SYNC also allows verbal command of devices that are plugged into the USB port. Three convenient and mandatory key lock cylinders are standard on all Police Interceptor models - one on each front door, on the sedan trunk, and the utility liftgate. This enables quick, reliable access from all critical points. Power failure will not inhibit access.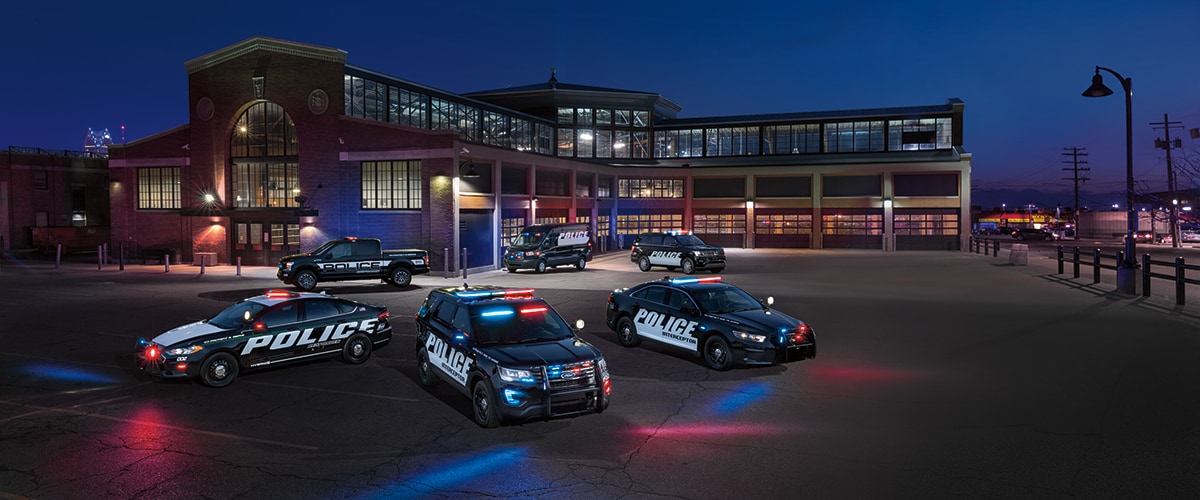 The large trunk in the Police Interceptor sedan is truly purpose built. The trunk circulation fan pulls air from the cabin to the trunk, maintaining temperate conditions and helping to protect heat-sensitive electronic equipment stored in the trunk. A full-size spare tire as standard. A sliding electronics tray holds aftermarket communications equipment up and out of the way. And a lockable trunk vault securely stores contraband and other equipment.
Get int touch with Eby Ford in Goshen, IN today to learn more about our new Ford Police Interceptors. We are here to work with our local Police force to provide them with a great and dependable vehicle that can help keep you safe on the job.
Hours
Monday

8:00am - 8:00pm

Tuesday

8:00am - 8:00pm

Wednesday

8:30am - 6:00pm

Thursday

8:00am - 8:00pm

Friday

8:30am - 6:00pm

Saturday

8:30am - 4:00pm

Sunday

Closed